went to watch Angels and Demons on Wednesday night with Auntie Lisa and Uncle Lawrence (hahhahahaha.... they sound so old!!! but in actual fact, Auntie Lisa is younger than me 2 yrs and Uncle Lawrence is older than me 2 yrs - i think) and LM. AND IT WAS OMGSODAMNFUCKINGGOODTHATIGOTMYPERIODINTHEMIDDLEOFTHEMOVIE!!! :P yea... i bled that nite. :P
Small Cow stayed a night on Wednesday coz the plan was she teman me to Bangi to collect my prize. So what happened was, LM passed Small Cow her set of house keys (Small Cow and LM are colleagues) coz Small Cow finishes work at 10ish 11 and we were still in the movies then and also coz Small Cow was suppose to go yumchar with her other colleagues. So anyway, by the time we reach home, eat, gossip, bathe and sleep, it was already 1ish and i gotta wake up at 6am to put on make up.... =.=" i know, i know, i damn vain :P but fuck care la... :P so anyway, after getting ready and all, we left the house at ard 7.30 to send LM to work in MidValley and then Small Cow and i shoot off to Bangi. I thought Bangi is far far far away.... see see, we arrived Bangi at 8.45am and the ceremony is at 10am.... :P so we round round around and found Old Town to have breakfast. At around 9.30, we went back to Permanis to hang around. then suddenly at around 9.45am, we saw the 42" LCD tv being carried in.... omg... i soooooo want it!!! :D after mingling around with the rest of the winners, the small prize giving ceremony started, it ended shortly coz not everyone turned up..... i was green with envy at the winner of the tv.... :P i sooooooooooooooooooooooooooooooo want it!!! really!! i do!!! :P
so anyway, after Bangi, we went to Cineleisure to get movie tickets. Small Cow wants to watch Angels and Demons with W and i was thinking, since we are going there anyway, wth? why not get tickets for me and LM to that nite also. i wanted to catch Night At the Museum 2, but LM was pretty reluctant. So we ended up getting tix for I Love You, Man. Really main hantam only. Coz i've never heard of the show before, but wth? who knows it might be nice, right? After getting the tix, we drove back to MV to have lunch and fetch LM (she half day) to go to AmBank at Jln Yap Kwan Seng to settle her stuffs. Whilst we were there, i went to check on my car loans, wanted to check how many months to go, how much more do i owe the bank and all. then Small Cow and i started to eavedrops on this case where this girl went to talk to one of the officers, telling them that her sister's car was repossessed by the bank right before she pass away and the bank officer was advising her on what to do. damn dramatic... :D and it was pretty amusing as well coz it's like listening to some 988FM drama :P after settling everything, we rushed back to Ara Damansara to get my car coz Small Cow needed to go meet W alre. And we rushed to G-Mart to get LM's car. After arguing with the people there, we went to the police station to file a police report. I tell ya, Ara Damansara's police are damn nice and friendly la. After filing the report, it's time to rush Cineleisure to have a quick dinner and then catch the movie. The movie is surprisingly good :D at least i like it la... :D
by the time we reach home, it's alre 10ish and by then, i was alre half dead... bleeding, whole day out going here and there.... :P
But i must say, it was a darn productive day yesterday!
am currently charging my mp3 player so that i can play with it later :D here's the pic of my prize: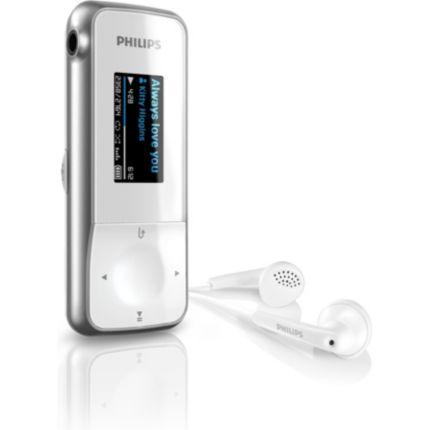 you see, the thing is, i've always wanted an mp3 player and i've always stopping myself to get one. telling myself that i cant afford it. you see, i have this really bad habit la... if i wanna get it, i wanna get something really really good like iPod. and then when i really started to save the money for it, i decided, hey, why not get one that can watch video one? then i started to think, do i really need it? with that kind of money that i am gonna spend on iPod, i can use that money to pay off my credit card bills leh! so i ended up not getting it and put it high on the "I want" list. So yea, i am so glad i didnt get it coz i won an mp3 player anyway! :D i have no time to transfer the songs to it yet coz some shit is happening in the office. (i know i know, if i no time, how come i can still blog? welp, i m blogging and working at the same time, meaning to say, i m typing all these in notepad as and when i m free). I've started typing here in notepad since 9am this morning and it's already 12.20pm now :D)
oh oh... so both LM and i were sitting at the waiting area outside the cinema to wait for the time to go in and we were looking at the promo video of Terminator and i was like drooling over Christian Bale and here's the conversation:
LM: yea, i agree Christian Bale is good looking, but i still like my Keanu Reeves
Me: eeee..... he is like sooooooo pale... :P wah... meaning to say u have watched Matrix 1,2,3 la....
LM: yea! of coz!..........*tiny voice* altho i dont understand a single bit of it....
Me: hahahahahahahahahahahahahahahahah
i find it damn funny this bimbotic moment. why? coz honestly speaking, i m not a big fan of Terminator and i dont know a single shit about the movie... but it's Christian Bale!!! so i m planning to go watch it anyway... just to drool.... hhahahahaahahahahahahahahahaah :D
ooohhh.... war in the office. and apparently i m involved. you see, this new colleague of mine, she is pretty long winded. whenever she give me a job, she needs to explain alot of things that is irrelevant to me and i find it really a waste of my time to listen. so today, as usual, she went on and on and i interrupted her and tell her to tell me conclusion is what? send the cargo? she say yes. without informing me the time to send is at 1pm. so i took the document and did all the arrangement and then next thing i know, 1 hr later, they come and scream at us saying that we are not suppose to send yet. 1pm only can send coz it's under fumigation. so i told them off, then next time, tell in clearer picture, she just told me go ahead and send. she didnt fix a time. and honestly speaking, i dont give a flying fuck about your bill of lading and all those shipping document craps coz i dont need to know. why cant she just tell me things that i need to know and not things i dont need to know??? so they are pissed with me, which honestly speaking, i dont really care. then just now, she send another booking and honestly speaking, i have no fucking idea what is she talking about. so i click on the attachment only to find out that she wants us to arrange to pick up the shipment and send to the consignee. i seriously dont understand why cant she just go straight to the point and tell us what she wants like the rest of the people!
aarrrgghhhh.... i m so damn fucking frustrated! and i m bleeding, with makes the frustrations triple up!!! grrrrrr!!!!!